YouMums Terms of Use

1. Terms
YouMums is a Social Enterprise Service which provides an online educational forum for delivering information and expertise accessible via website and webinars to all mothers on the journey through motherhood.

By accessing the YouMums website and services you are agreeing to be bound by these Terms of Use and all applicable laws and regulations, and agree that you are responsible for complying with any local laws. If you do not agree with the Terms you should not access or use the website. The methodology and material contained in the YouMums website and social media platforms are protected by copyright and trademark law.

2. Log in and Use Licence
You have to be a responsible adult to use the YouMums site.
Log in: To use YouMums services, you will be required to log in. You are required to give truthful contact information (such as name and email address). We may ask you to complete a registration form and create a username and password. You are responsible for protecting your Login information from unauthorised use and you are responsible for all activity that occurs on your account. You must keep YouMums record of your email address and contact information up to date at all times.
If you think your account has been compromised, you must contact YouMums immediately.

YouMums may permit you to register through certain third-party social networking services, such as Facebook Connect or Google (each, an "Authentication Service"). By registering for or logging into the Service using an Authentication Service, you agree that we may access and use your information on the Authentication Service, including your username, profile picture, age and date of birth, email address, and friends/contacts list. As a result, you authorise us and the third-party social networking services to share certain information about you with each other.
Use licence: Signing up may give you a temporary licence to download an item for your own private use. This is strictly personal to you - it is forbidden to share copies with other people.
Permission is granted to download one copy of any downloadable materials on the YouMums website for personal, non-commercial, temporary viewing.
All materials remain the property of YouMums, so you may not:
modify or make other copies of the material, or distribute the copy;
use the materials for any commercial purpose or public display;
attempt to decompile or reverse engineer any software contains on the YouMum's website;
remove any copyright or other proprietary notations from the material;
transfer the downloaded material to another person, or 'mirror' the materials on another server.
The temporary licence will be automatically terminated by YouMums if you violate any of these restrictions at any time. If your licence is terminated, you must destroy any downloaded materials of any formats in your possession.

3. Fees, Cancellation policy and Refunds
Fees for use of YouMums services are subject to change at any time with or without notice and without liability to you or any third party.
Unless otherwise stated, all Fees are payable in New Zealand Dollars. You agree to pay all Fees incurred by you or anyone else using your account, and you hereby authorise us and our third-party payment service providers to collect such Fees using the credit card or other payment methods you provide to us.
YouMums reserves the right to charge variable fees for the live webinar sessions.
Access to replays (on-demand access): replays of purchased webinars are available for free up to 10 days from the live-streaming date. If you'd like to replay a webinar after this 10 days period, you must pay a subscription fee at the price listed on the YouMums website. Different webinar topics may be subject to different terms and conditions and third-party license agreements that you may have to accept prior to viewing or purchasing a session.

Subscription cancellation: you may cancel your subscription by sending an email to YouMums with "Cancel Subscription" in the subject line. YouMums has no obligation to refund any prepaid fees if you terminate before the end of your subscription.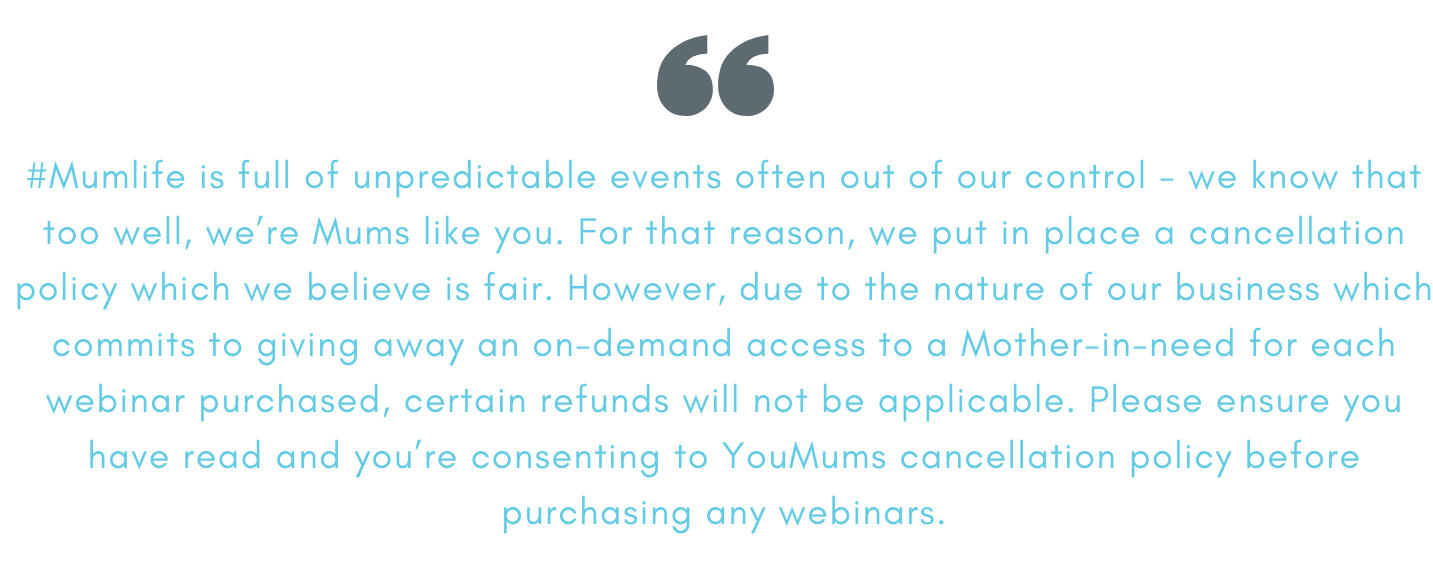 Cancellation policy and possible refunds: you have the right to cancel your attendance at a live webinar event and you may be eligible for a refund under certain circumstances, in accordance with this policy:

For cancellations at least 72 hours prior to the start of the webinar, a full credit will be raised on your account for the purchase of another webinar.*
For cancellation at least 48 hours prior to the start of the webinar, a 50% credit will be raised on your account for the purchase of another webinar.*
For cancellations of less than 24 hours prior to the start of the webinar and non-attendance, a 10% credit will be raised on your account for the purchase of another webinar.*
*Credits are valid for use for up to six months from the date of the webinar in question, after which they lapse.
Refunds of cancelled webinars: YouMums reserves the right to reschedule, postpone and/or cancel expert-led webinars without prior notice, although all efforts are made, and all alternatives exhausted to avoid this.
All webinars require a minimum of five attendees (unless otherwise specified). If enrolments fail to reach the minimum number of attendees two days prior to the start of the webinar, YouMums may reschedule or cancel the webinar while informing its attendees of the changes.
YouMums reserves the right in their sole discretion, to choose to refund the applicable fee in case of a cancellation.

4. Disclaimer and Limitations
YouMums is not responsible for other companies' products or your posts.

YouMums provides material and information in good faith and shall not be liable for any damages arising out of the use of, or inability to use, the materials on the YouMums' website.

The materials on the YouMums' website might refer or have links to other companies' products. No warranties are expressed or implied and YouMums disclaims responsibility for all other warranties or non-infringement of intellectual property or other violation of rights.

5. Links
If a link is used to reach another site, YouMums is not responsible for the contents of that site. The use of links is at the user's own risk.
YouMums services may include blog posts, guest articles, videos, message boards, featured products, ask-the-expert questions or other content or features related to motherhood.
YouMums material that is posted on the YouMums site is for your sole use and at your own risk. YouMums reserves the right to make changes to specifications of our Services or other
information without obligation to issue any notice of such changes.

6. User-generated feedback and content
YouMums will always welcome suggestions or feedback as we seek to continuously improve our user experience.
If you send feedback, ideas or suggestions to YouMums, they must be available for free use and not confidential. We will be free to use such feedback in any manner without any obligation to you. You waive the right to bring any claims against us related to our use of any feedback, including those related to "moral rights."
While we welcome critique, any feedback should take into consideration the YouMums Community Standards quoted below - section 7.
User-generated content must not be objectionable or use distasteful language or promote any illegal or unethical activity.
We reserve the right but do not have the obligation, to monitor the content and transactions on or through all YouMums social media. If we become aware of any content or transactions that we deem, in our sole discretion, to be in violation of these Terms or otherwise inappropriate, we may remove the content, cancel the transaction, or suspend, block, terminate or restrict access to the Service, without liability to you or any third party.
YouMums does not claim any ownership rights in any user-generated content that you upload to or submit to YouMums. You warrant that you own the user-generated content posted by you or that you otherwise have sufficient right, title and interest in such content to grant YouMums the licenses and rights to it without infringing the privacy rights, copyrights or intellectual property rights or any other rights of any person.

By displaying or publishing any user-generated content on or through YouMums site, you hereby grant a YouMums a license to use, display, reproduce, modify re-arrange and distribute your content for any purposes.

7. YouMums Community standards
YouMums is a global learning-focused online community to guide Mothers through the stages of their motherhood journey.
Our standards are designed to nurture our goal of creating a diverse, positive, safe, constructive, valuable and overall enjoyable space for our community to actively learn and share information.
By interacting with YouMums services or online content, you will agree to be:
Non-judgmental: YouMums wants you to connect and nurture your mothering instincts and to feel confident in following the options that best align with your own instincts, which can be differing from one another. Sharing the diversity of mothering styles in a non-judgemental manner is the true value of the YouMums community.
Open-minded: the diversity and complexity of all human beings unveil wonders and beauty. We ask that you keep an open mind to new ways of parenting presented to you through our platform or social media networks. If we share a common bond of wanting to do our best, it can look different for all of us.
Respectful: YouMums ask that all users who interact with our content or experts do so respectfully and mindfully. Please refrain from quick and thoughtless reactions. If you notice that a user is misusing our platform or social media networks for inciting conflict or posting inappropriate or inflammatory articles/materials, please do not comment or engage with them directly but instead, report that behaviour to YouMums privately.
Non-promotional: do not spam or solicit or post commercial advertising. If you wish for a service to be heard by our online community, please contact YouMums privately. We will reserve the right to assess if your promotional content is relevant to the needs of our online community and post it ourselves if approved. Please note YouMums' content is not supported by paid advertisements or sponsors, because, in contrast to sites focussing on commercial sales, YouMums is an educational platform.
Violations of any of these standards may result in a warning, temporary suspension or, with repeated violations, banishment from the use of YouMums services or social features.

8. General
You must not interfere with the YouMums website or do any technical misdemeanour.

You may not intentionally interfere with or damage the security of the YouMums website or material or any user's enjoyment of it. Sending of junk mail and unsolicited materials is forbidden.

Healthcare topics: YouMums does not provide medical advice, diagnosis or treatment.

YouMums may contain articles, blogs, questions and answers, frequently asked questions or other postings regarding health care, medicine, nutrition, exercise and similar topics. All such information is general and should not be used instead of a clinical or therapeutic relationship with a health care professional who is fully familiar with the specifics of your case.

YouMums provides information that may assist you in your personal general research but none of it constitutes the practice of medicine or any other health care profession. Nothing in YouMums is intended as a recommendation or endorsement of any specific tests, products, procedures, healthcare provider, opinions or other information, except that YouMums provides information of a general nature which is designed for educational purposes.

Modifications: Sometimes adjustments or revisions are made to our content. YouMums may make changes to or discontinue any products or services available within its system at any time, and without notice.

YouMums may revise the Terms of Use for its website at any time without notice. By using the website, you are bound by the current version of the Terms at that time.

Your use of the YouMums site indicates your agreement to be bound by our Terms of Use and Privacy Policy.